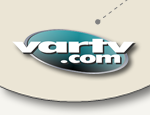 » If you have any news, updates, additions or corrections... e-mail them to editor@VARTV.com.




A brand new classified ad has been posted on VARTV. Radio Disney Richmond (WDZY/1290) is searching for a sales person. Click "Classified Ads" on the left navigation panel for the complete details.

If your station/organization has any positions available (media orientated), get them on VARTV! You would be surprised who reading..... (12/31/04)

:// CBS6 attracts more late-night news fans

For the first time in recent memory, WWBT's (12/NBC) grip on the late-night news has been challenged. WTVR (6/CBS) is in a virtual tie for viewers at 11 p.m. weeknights, according to November figures from Nielsen Media Research. Both stations garnered a 10 rating, meaning 10 percent of the area's TV households were tuned to each station at 11 p.m. Douglas Durden has the whole story in the Richmond Times-Dispatch..... (12/31/04)

:// WTVR-DT added to Comcast line-up

Raycom Media "CBS6" WTVR's digital signal has been added to the Comcast Richmond HD Tier on channel 212. Comcast already carries local "NBC12" WWBT-DT on channel 211 and WRIC-DT (8/ABC) on channel 210. This brings Comcast's hi-def offerings to 11..... (12/28/04)

:// Radio news service founder signs off

After more than a decade of heading the Richmond Times-Dispatch Broadcast News Service he started, John Ogle has retired. (December 23rd) was his last day on the air. The rest from the Richmond Times-Dispatch (12/27/04)

:// BOB's a Star

Travis Media's "Oldies 101.5" WZZI Vinton/Roanoke adjusted the station's sound this morning, shifting to BOB-FM. No, not the BOB-FM that you might be thinking of, the "we play anything" format. Taking a quick listen online, the station has a 60s/70s sound using the positioner "Good Times & Great Oldies, The New BOB-FM." WZZI had been doing holiday music the past month as "Christmas 101.5" WZZU/97.9 Lynchburg has too flipped to BOB-FM but it doesn't appear to be a simulcast. Here's a sound clip of their TOTH this morning at 7AM..... (12/27/04)

For the second year, Lockwood Broadcasting's "UPN Richmond" WUPV Ashland will allow viewers to share in a holiday Yule log as it airs a full-screen image of a hearth fire, complete with seasonal music and without commercial interruption, from 7 to 11:30AM tomorrow. The movie "White Christmas" follows at 11:30..... (12/24/04)

:// Jim Rome joins ESPN Radio 1310 line-up

"ESPN Radio 1310" WCMS Newport News announces a new addition to the lineup - perhaps the most respected voice in the world of broadcasting, Jim Rome. He is the leading opinion-maker of his generation. Rome is known for his aggressive, informed rapid-fire dialogue. The Jim Rome Show, a.k.a. The Jungle will be moving from "Fox Sports 1050 AM" WVXX to ESPN Radio 1310 effective January 3rd. The programming lineup on ESPN Radio 1310 will be as follows:

6-10AM - Mike and Mike
10AM–noon - The Herd with Colin Cowherd
noon–2PM - The Jim Rome Show
2–4PM - An ESPN SportsCenter original, The Dan Patrick Show
4–7PM - The "Blastman" Tony Mercurio Show, local and live
7PM-mid - ESPN Game Night

Tony Mercurio, ESPN Radio 1310 Program Director commented, 'It is an exciting lineup… I feel privileged to be the anchor of this great batting order." (12/22/04)

Travis Media's "Christmas 101.5" WZZI Vinton/Roanoke is stating on-air that they will have a "new" station after Christmas. Stay tuned..... (12/22/04)

:// Happy Holidays, New York...

This has nothing to do with Virginia media BUT it's just classic to listen to... Frankie Blue, the Program Director at Infinity's struggling Dance "Mix 102.7" WNEW New York, gets behind the mic last week... PLASTERED! He's heard on-air just rambling on and on; even mixing up the station's call letters on the air -- saying "KTU, Mix 102" -- his former station and now arch-rivals. XM Radio's Opie & Anthony get a hold of an aircheck of Blue on the air and have a field-day with it. Enjoy! (R-rated language) (12/21/04)

:// WFLS welcomes new reporter

A new news reporter can be heard on Free Lance-Star's Country "93.3 WFLS" Fredericksburg. Darragh Copley joined the award winning news team. Copley is a graduate of the University of South Carolina. She has worked at Gannett's WLTX (19/CBS) Columbia SC and interned at WPDE (15/ABC) Florence/Myrtle Beach SC while in the University's broadcast journalism program. A Stafford native, Darragh feels right at home covering news in the Fredericksburg area. (12/21/04)

:// Gray TV loves CBS

The CBS Television Network and Gray Television have signed new long-term affiliation agreements covering 16 Gray-owned CBS affiliate throughout the country including Gray's new "CBS19" WCAV Charlottesville. Peter Schruth, President of Affiliate Relations for CBS said, "The deal we're announcing today is historic - the most CBS affiliates to ever renew their affiliations at one time. It's a reaffirmation of the outstanding business relationship we have with Gray, one that will continue for many years to come. We're very pleased and proud to be their partners in these markets." Gray owns more CBS affiliates than any other station group with the exception of the CBS O&O's (owned and operated)..... (12/21/04)

:// PD to leave

We're hearing that Sinclair Communications' Program Director for Alternative "96X" WROX/96.1 Exmore and Adult Hits "93-7 BOB FM" WPYA Chesapeake, Michelle Diamond, will exit by end of year. No replacement has yet to be named BUT could he/she or they already be walking the fifth floor halls of their Dominion Tower offices? (12/21/04)

:// Carr turns in the keys

Lisa Carr, Assistant Program Director and middayer for Mid-Atlantic Hot AC "B101.5" WBQB Fredericksburg, had her last day at the station on Friday. Carr said, "It's been a really emotional day here at the station…every one here at the B has been great to work for (they are my extended family)…and listeners have been great with their well-wishes and I have been trying hard all day not to cry but…WOW!" Carr is leaving the state to follow her husband, a pilot in the Marines, to North Carolina. She also did part-time/swing work at ABC Radio's Hot AC "Mix 107.3" WRQX Washington DC as Liz Kelly.

Lisa tells us "to stay tuned for Lisa (yes, another Lisa) Parker—my replacement—she rocks!" and went on to say, "As for my agenda, I am going to celebrate life at home for the holidays with my hubby (and enjoy a non-working Christmas and New Years), and visit family in January. Knowing myself, I will be itching to get back into a studio in late January/early February—so I will let you know where I end up!" If any one wants to reach out to Lisa, drop the text to goddessonair@yahoo.com..... (12/21/04)

:// Dave Cupp signs-off tonight after 26 years

A great article from the Charlottesville Daily Progress about Dave Cupp who signs-off this evening at the conclusion of the 6PM newscast on "NBC29" WVIR. Cupp will be heading to Cambridge MA to be with his wife. She took a one-year position teaching at Harvard. That was two-and-a-half years ago. Cupp won't be enjoying R&R too long. He'll be starting something new and "surprising" in Massachusetts. He could be giving a hint to it tonight at 6. Stay tuned..... (12/17/04)

:// Studio Center names new GM

Studio Center Worldwide Audio has named Chris White as General Manager of their Las Vegas studios. Chris joined Studio Center in 1979 as Audio Producer and Creative Director. During his 15-year tenure, he became one of the top producers in the industry. He left Studio Center in 1994 to form Chris White Inc., a creative consultancy to advertising agencies. In addition Chris became a top voice talent at Studio Center and continued to freelance produce, direct and write copy.

"We are thrilled that Chris is bringing his combined skills, talent and experience back to Studio Center, as the new General Manager of our Las Vegas studios." says William "Woody" Prettyman, CEO.

Studio Center is comprised of 14 studios in three cities: Norfolk, Las Vegas and Memphis. Studio Center produces radio and TV commercial audio, plus audio for documentaries, jingles, CD-ROMs, in-flight entertainment, computer games, toys, web sites, corporate training programs and in-store announcements for clients in all 50 states and 23 countries around the world..... (12/16/04)

:// Adelphia, NFL Network announce agreement

Adelphia Communications and the NFL Network have entered into a broad affiliation agreement. The deal includes distribution of NFL Network, NFL Network on Demand and NFL Network HD. Adelphia will begin rolling out the NFL Network in the next few weeks. The cable company will initially launch in NFL team markets -- New England, Pittsburgh, Cleveland and Buffalo -- in time for the NFL postseason. Adelphia has more than 5M customers in 31 states including Virginia and North Carolina..... (12/16/04)

:// Davidson Media Group to acquire two Rhode Island FM radio stations

Davidson Media Group announced today that it has entered into a definitive agreement to acquire two FM radio stations in the Providence RI market area -- Classic Rock WKKB/100.3 and Urban "Hot 106.3" WAKX/102.7 from Citadel Broadcast Group for a total of $7.5M.

When asked about the acquisition, Peter Davidson, President of Davidson Media Group said, "The Providence market fits very nicely with our plans to expand multicultural programming and offer both listeners and advertisers greater opportunities. For the first time the Providence area will have full market coverage Spanish radio on the FM dial, 24 hours a day, seven days a week." The press release did not mention which signal would go all-Spanish.

Davidson recently agreed to buy four out of the five RadioRichmond (4M Communications) radio stations (WLEE/990, WNVZ/1320, WTOX/1480, WREJ/1540) in the Richmond area and WVXX/1050 (formerly WCMS) Norfolk from Barnstable Broadcasting..... (12/15/04)

Virginia Free Press' "Richmond Indie Radio" WRIR-LP/97.3 Richmond, soon to sign on, gets ink in the Richmond Times-Dispatch..... (12/15/04)

:// New website for student station

CHR/Variety "Mix 91" WHCE/91.1 Highland Springs is a 3,000 watt high school station -- run by the students of Radio Broadcasting & Journalism at Highland Springs Technical Center, part of Henrico County Public Schools. Radio Broadcasting & Journalism is a two year program open to rising juniors & seniors in Henrico County Public Schools. They have just launched a brand new website at mix.91.com and soon will be streaming their audio over the Internet. Mix 91 can be heard in the immediate Richmond area..... (12/14/04)

:// Another successful radiothon at The Point

Entercom Modern AC "94.9 The Point" WPTE Norfolk morning team Chuck, Jenna and Mary Kathryn hosted their 3rd annual radiothon to benefit Children's Hospital of the King's Daughters other the weekend. This year's radiothon broke station records by raising almost $350,000 during the three day event. Some of the highlights included calls from Robbie from the Goo Goo Dolls who pledged a generous donation, and Howie Day, whose song, Collide became the running theme of the event. New Capitol artists Ashlyn, also called in a nice pledge as well.

In the past 3 years, 94.9 The Point has raised close to $1M for CHKD..... (12/14/04)

:// Hats off to WAVY TV 10 military reporter Patty Culhane and FM99's Nikki Reed

19 year old Jon Bartlett, a soldier from Norfolk, lost his legs to a roadside bomb in Iraq back in September. When FM99 told her the news six weeks ago, Culhane went straight to work and helped assemble a team of over a dozen area companies to help make his parent's house wheelchair accessible for Jon. Many people wanted to help, but the massive effort needed someone to pull it together, and Culhane took charge.

When Jon gets out of Walter Reed Medical Center this Friday afternoon, he'll arrive home to a brand new fully furnished bedroom, laundry room, bathroom, wheelchair ramp, and deck. If that weren't enough, the crews completely upgraded his parent's kitchen from top to bottom. All free for free. Patty even got a bunch of WAVY folks (Anchorman Les Smith, Producer Danny Epperson, news director Gary Stokes) to paint the walls this past Saturday.

This is not the first time Culhane has worked her magic. After being imbedded with US troops for a couple of weeks in Iraq, she came back and persuaded her co-workers at WAVY to donate shoes and school supplies to the Iraqi children..... (12/14/04)

:// Tremblay to exit

Weekend Meteorologist Cindy Tremblay of Raycom Media's "CBS6" WTVR Richmond is heading for Sinclair Broadcasting's "FOX17" WZTV Nashville. Her last day will be tomorrow Tuesday, December 14..... (12/13/04)

:// COX and Charter sign up for CSTV carriage

Mediaweek is reporting that College Sports Television (CSTV) has signed cable distribution deals with Charter and COX, which both companies have systems in Virginia and NE North Carolina. The network now has agreements with the five largest cable operators -- including Time Warner, Comcast and Adelphia plus satellite operator DirecTV. CSTV expects the network to start rolling out on the two new cable systems as early as the first quarter of 2005. The cable operators would decide how the network would be offered to its respective customers -- in most likelihood, digital cable. On a side note, ESPN recently announced that it will begin offering its start-up college sports network -- ESPNU -- in March 2005..... (12/13/04)

A brand new classified ad has been posted on VARTV. Piedmont Communications' four station cluster is looking for a Sales person. Click "Classified Ads" on the left navigation panel for the complete details.

If your station/organization has any positions available (media orientated), get them on VARTV! You would be surprised who reading..... (12/13/04)

:// Kristen Bishop exits

"13NEWS Daybreak" WVEC (ABC) Metro Traffic reporter Kristen Bishop returned from maternity leave on Monday November 29 after giving birth to Nora, her second child, back in mid-September. This past Friday was her last day. Bishop will be heading to Pittsburgh where her husband has landed a new job. It seems, until very recently, he was a director at cross-town WAVY (10/NBC). No details have been given as to the nature of the new job, or what Kristen will be doing in the Steel City.

Former fellow Metro Traffic reporter Talie Germain, who covered for Kristen on her maternity leave, will once again cover for Kristen until further notice..... (12/13/04)

:// News Director in the hotseat

Lisa Provence of Charlottesville's "The HooK" puts Ric Barrick in the hotseat -- an informative Q&A session. Barrick is the ND of Gray Television's two new television stations in C-ville. He oversees the news on "CBS19" WCAV and soon-to-be on "ABC16" WVAW-LP..... (12/11/04)

Clear Channel Soft AC "Lite 98" WTVR/98.1 Richmond is now streaming their audio over the Internet. Go to VARTV's Richmond market page for the link..... (12/10/04)

:// New websites launched

Willis Broadcasting Norfolk has launched brand new websites for two of its three stations in Hampton Roads. Gospel "Your Inspirational Leader" WPCE/1400 Portsmouth's new website is at wpce1400.com and Gospel " Your Gospel Connection" WGPL/1350 Portsmouth's new site is at wgpl1350.com..... (12/10/04)

:// Comcast Richmond raising cable rates, realigning channels

UPDATED: In effort to equalize prices, all customers in area to pay more beginning January 1. Comcast customers will see rate increases for standard cable and other services, including premium movie channels. The whole story in the Richmond Times-Dispatch here and here..... (12/10/04)

Cool article in this week's Richmond's Style Weekly about Comcast's public access channel on Channel 6..... (12/10/04)

:// FOX Sports Radio to stay put in Hampton Roads

But not on AM1050. When the sale of AM1050 (WVXX) to Davidson Media from Barnstable Broadcasting is complete in January or February 2005, the FOX Sports Radio format will be picked up by Hampton Radio II's WLRT/1490 Hampton. Right now, the station, known as "1490 The Outlaw," is doing NASCAR and Oldies. WLRT, also a FOX News affiliate, will be going head-to-head will Barnstable's other Sports property -- ESPN Radio 1310 WCMS (previously WGH). More details coming... stay tuned..... (12/8/04)

:// Hampton Roads gets a new radio station

Delmarva Educational Association (a subsidiary of the mega religious broadcaster Salem Communications) WWIP/89.1 Cheriton is on the air with holiday tunes. The station is identifying itself as "Word In Praise WWIP 89.1 Cheriton/Hampton Roads VA." After the holiday, WWIP will pick up Salem's Word In Praise network which offers praise and worship with a limited amount of music targeting older adults. WWIP has two studios -- one in a church in Kempsville (section of Virginia Beach) and one in Cheriton. The WWIP owners also run Bright AC "K-Love" WAZP/90.7 Cape Charles..... (12/8/04)

:// New reporter at NBC12

Sean Lewis was introduced as a new reporter for "NBC12" WWBT Richmond Monday evening. Lewis most recently was the morning anchor on Young Broadcasting's "NewsChannel 17" WTVO Rockford IL. He graduated from the University of Wisconsin with a BA in Mass Communication and Minoring in Political Science..... (12/8/04)

Clear Channel Richmond has begun streaming the audio of "NewsRadio 1140" WRVA. You need to register to access the link on WRVA.com or go to VARTV's Richmond market page and scroll down to the WRVA listing..... (12/8/04)

:// Changes at 96X

Sinclair Communications has announced that former Ocean Broadcasting Alternative "Surf 98.3" WSFM Oak Island/Wilmington NC PD Knothead is the station's new night slammer. Nick Papageorgio comes off air to focus on his Production Director duties within the Sinclair cluster. Knothead isn't new to WROX/Exmore. He had been doing weekend/swing shifts. More about Knothead at knotheadradio.com..... (12/7/04)

:// Call letter shuffle in Hampton Roads

What do you do when you have heritage call letters and just don't want to get rid of them? You shift them to another radio station in your group. That's what Barnstable Broadcasting has done, again. Starting today, "FOX Sports Radio 1050" has changed its call letters to WVXX from WCMS. We hear that's what the new "pending" owners (Davidson Media) have requested for the station. And after being WGH for almost all of the station's existence, "ESPN Radio 1310" has taken the WCMS from AM1050. Hampton Roads Radio Group (Barnstable) also continues to hang onto very recognizable call letters - WFOG (92.9) and WGH (97.3 The Eagle). We hear the sale of WVXX (formerly WCMS) to Davidson should close early 2005. On ESPN Radio, expect some minor tweaking of their programming in the coming weeks..... (12/6/04)

:// Hampton Roads November 2004* TV news sweeps



:// Virginia Beach mayor honors FM99 Christmas Wish Fund this Saturday
Meyera Oberndorf Declares "Tommy & Rumble Christmas Wish Day"

Chalk it up as something you thought you'd never hear: Tommy & Rumble have been given a day. That's right, the Mayor of Virginia Beach, Meyera Oberndorf, has declared this Saturday, December 4th, "Tommy and Rumble Christmas Wish Day." Mayor Oberndorf decided to honor the top morning radio team and FM99's Christmas Wish Fund after they raised more than one million dollars for less fortunate families across Hampton Roads over the past decade. The charity receives almost all of its funding from the sales of Tommy and Rumble comedy CDs.

Their latest CD, "Wardrobe Malfunction," hit music stores this week. It's a cacophonous (not my word) collection of irreverent interviews, bogus commercials, song parodies, and phony phone calls. Mayor Oberndorf will make the official proclamation this Saturday, at approximately 2:15 PM, at FM99's CD signing party at Planet Music on Constitution Drive. From 1-3PM, Tommy Griffiths and Rick Rumble, along with fellow morning show members Nikki Reed, Rod Fitzwell and Chuck the Intern, will be there to sign CDs. Typically, a crowd of at least 100 people show up to get autographs. Go figure. Mayor Oberndorf's proclamation can be found on FM99's website at fm99.com..... (12/2/04)

:// Call letter shuffle in Richmond

Just last week, the shifted Urban AC format to 105.7 by Radio One brought on the new call letters -- WKJM to replace the WJMO-FM calls. But last Thursday, those brand new calls (WKJM) were shifted to the new simulcast partner of "Kiss FM" at 99.3 Petersburg. 105.7 is once again WJMO-FM with newly shifted Gospel station "Praise" on 104.7 still as WKJS. The WPZZ call letters that were on 99.3 Petersburg were put back into the pot. But not for very long. Radio One requested the WPZZ call letters again on Tuesday. The thinking, of course, is to place the newly requested WPZZ call letters on 104.7/Crewe to match it's format and shift the current WKJS calls on 104.7 to 105.7/Richmond to match its new format. Stay tuned..... (12/2/04)

Cox Cable Hampton Roads has added Universal-HD (renamed from Bravo HD+ starting today) on channel 761. The channel is owned by NBC Universal and has already started to shift some of its programming to take advantage of Universal's enormous video library..... (12/1/04)

:// WXGI Sales Manager let go

Gee Communications' "ESPN Radio 950" WXGI Richmond gave its Sales Manager Peter Cowley a Thanksgiving gift he won't forget -- a pink slip. Cowley's last day was at the end-of-business last Wednesday. He did say "I had a fantastic run and I'm especially proud of the success of the ESPN Radio brand in Richmond and more specifically The Drive with Greg Burton." A replacement has not been publicly announced..... (12/1/04)

:// Randles back tomorrow

WTKR (3/CBS) Norfolk News Anchor Tom Randles is set to return to the anchor chair tomorrow evening at 5PM. He's been out for over a month dealing with a charge of domestic assault against his wife which last Tuesday was dismissed in Juvenile and Domestic Relations Court in Virginia Beach. Back in October, Frank Chebalo, WTKR's GM, told The Virginian-Pilot that Randles had been scheduled to go on vacation the week before the incident but went "on leave" a couple of days early and hasn't been seen since. That changes tomorrow. Randles co-anchors the station's 5PM, 6PM and 11PM newscasts and also is WTKR's Senior Editor..... (12/1/04)

:// Jennings finally loses tonight

Sources who have seen the advance feed of tonight's episode of "Jeopardy!" confirm it. At long last, human encyclopedia Ken Jennings loses, ending his streak of 70+ consecutive wins, and a record-shattering payout of over $2.5 million. The episode airs tonight at 7:30 throughout VARTV-land on WVEC (13/ABC) in Hampton Roads, WRIC (8/ABC) Petersburg/Richmond, WSET (13/ABC) Lynchburg/Roanoke, WHSV (3/ABC) Harrisonburg, WVIR (29/NBC) Charlottesville, WCYB (5/NBC) Bristol and WJLA (7/ABC) Washington. Interestingly, Jennings has a scheduled appearance on tonight's "The Late Show with David Letterman" on CBS. Hmmm..... (11/30/04)

CBS6's (WTVR/Richmond) News Director Rick Howard is profiled in the Player's Corner in today's Richmond Times-Dispatch..... (11/29/04)

:// Kristen Bishop is back

UPDATED: A familiar face reappeared on "13NEWS Daybreak" WVEC (ABC) this morning as Metro Traffic reporter and new mom Kristen Bishop returned from her maternity leave. Kristen gave birth to Nora, her second child, back in mid-September. Fellow Metro Traffic reporter Talie Germain had been covering for her in the meantime. We're hearing, though her stay in Hampton Roads will be brief. She'll be following her husband to his new job soon..... (11/29/04)

:// News anchor Randles is cleared of domestic assault charge

Television news anchorman Tom Randles has been cleared of a domestic assault charge against his wife. The dismissal came Tuesday in Juvenile and Domestic Relations Court, according to an announcement from Randles' attorney, Andrew M. Sacks. More from The Virginian-Pilot..... (11/27/04)

A brand new classified ad has been posted on VARTV. Telemedia's "Virginia's Rockin' Oldies" WGRQ/95.9 Colonial Beach/Fredericksburg is looking for a morning announcer. Click "Classified Ads" on the left navigation panel for the complete details.

If your station/organization has any positions available (media orientated), get them on VARTV! You would be surprised who reading..... (11/25/04)

Happy Thanksgiving to all! Keep sending us your stuff... we'll be here..... (11/24/04)

:// Cox Cable Hampton Roads news

Cox Cable Hampton Roads has officially announced their new Cox DVR service today. Cox touts the service as a "product allows VCR functionality without the use of a videotape and operates with both high-definition and standard-definition programming." The Cox email out to customers states "With DVR from Cox you will have the ability to: - Watch TV on your schedule - Automatically record your favorite programming - Control live TV - pause, rewind and fast forward - And much, much more..."

The Viacom-owned music channel "MTV2" will be added to the Cox Expanded Service (analog) on December 30 on channel 65. This addition displaces HSN - Home Shopping Network, which gets moved to channel 53. HSN displaces the premium movie channel Encore which will only be available on Cox Digital Cable on channel 390...

The Norfolk Traffic Channel recently debuted on channel 46 for Norfolk customers. The channel rotates 42 VDOT traffic video cameras along I-64, I-264, I-464, I-564 and I-664 every three seconds. On the bottom of the screen, there's a "crawl" informing viewers of upcoming city road work. The Norfolk Traffic Channel is a cooperative effort of Cox Communications, the City of Norfolk and VDOT..... (11/24/04)

Radio One's newly shifted Urban AC format to 105.7 (Kiss FM) has new call letters -- WKJM. They went into effect on Tuesday. We're assuming the call letters on 99.3, currently WPZZ, and on 104.7 (WKJS) will be swapped to match their new formats. Even though Urban Oldies WJMO is gone, the call letters are still with Radio One. They have a station in the Cleveland suburbs doing Gospel on AM..... (11/24/04)

:// RadioRichmond (4M Communications) sells out

RadioRichmond has sold its entire five-station cluster around Richmond for $4M. "Unforgettable 1340" WHAP Hopewell is sold to MainQuad Communications for $200,000. MQ also owns Country "93.1 The Wolf" WJZV Ettrick, "Oldies 107-3" WBBT Powhatan//WARV Petersburg and WCUL/98.9 Midlothian. RadioRichmond's four other stations go to Davidson Media for $3.8M. This is the same group that recently agreed to buy Barnstable's "FOX Sports Radio 1050" WCMS Norfolk. Davidson gets "Unforgettable 990" WLEE Short Pump, "La Selecta 1320" WVNZ Richmond, "TalkRadio 1480" WTOX Glen Allen and Gospel "Rejoice 1540" WREJ Richmond.

Peter Davidson, President of Davidson Media said, "The Richmond acquisition fits perfectly into our growth plans. We are currently in 12 other markets..." Davidson also announced that, "Mike Mazursky, Co-Founder/Co-Owner of 4M Communications, with over 20 years in radio ownership and management, will join Davidson Media Group as market manager of the Virginia properties. Mike's vision to establish a radio group has created RadioRichmond, a 5-station cluster of AM radio stations that is currently serving unique, diverse audiences."

As mentioned with the WCMS story on VARTV, Davidson Media, according to their website, "...operates two types of radio stations. The first are traditionally programmed stations. These broadcast music, local and international news. DMG's programmed stations are generally focused on the Hispanic market and these stations are mostly in Spanish. The second (and the majority) of DMG operations are block programmed radio stations... with local entrepreneurs to turn our station into the true voice of the local immigrant and/or non-English speaker." (11/22/04)

:// Wake-ups in Richmond

A few changes in the morning drive this morning in Richmond. On MainQuad's "Oldies 107-3" WBBT/WARV morning show "Mike and Kelly" has been taken off the air. Afternooner and PD Joey Butler is now filling-in in the morning drive. It's uncertain "Mike and Kelly's" (Mike Levay nor Kelly Fever) exit is ratings-related or creative differences. We hear though that neither have been let go. With some Country format experience, could they both be heading to sister station "93.1 The Wolf" WJZV which is currently jockless? We may not have heard the last of them (separately) at MQ. Marc Haley, we hear, will be covering the afternoon slot at Oldies starting today...

Mikki Spencer, who recently did mornings on now defunct Urban Oldies "Magic 105.7" WJMO, is now doing wake-ups on sister Radio One property Gospel "Praise 104.7" WKJS..... (11/22/04)

:// Tom Joyner quits

The radio station operator, that is. Joyner Radio, based in North Carolina, has sold its final three radio stations -- "Rejoice 1370" WSHV and "Kiss Country" WKSK/101.9 South Hill, and "Cool Oldies 98.3" WICE Clarksville to newly created Lakes Media for $2.5M. According to the press release, Lakes Media President Thomas C. Birch said that there are no plans for changes at the stations.

A. Thomas Joyner, owner of JRI, said that the sale of the stations would be a high point and the end of his 41-year broadcasting career. "I've enjoyed a long and fruitful career in broadcasting, one that has taken us all over the country and ownership of 44 radio stations but there comes a time when you realize that there is more to life than radio," Joyner said in the press release. "We plan to travel, do some writing and enjoy our family with whatever time God gives us in retirement."

Joyner briefly owned stations in Virginia that included station swaps in Northern Virginia. A little piece of that deal, brings the 98.9 signal to the Richmond market..... (11/20/04)

:// After 20 years at the same desk, WWBT's co-anchors still have a great on-air chemistry

In the fall of 1984, an anchor team debuted on WWBT-Channel 12: Gene Cox, already an anchor for the station, and Sabrina Squire, then a reporter. Twenty years later, they're still an on-air team - an almost unheard-of occurrence in TV news. In fact, they've been Richmond's top-rated anchor team for some 15 years. Read the rest from Douglas Durden of the Richmond Times-Dispatch..... (11/20/04)

A brand new classified ad has been posted on VARTV. Gray Television Charlottesville is looking for an Account Executive for "CBS19" WCAV and "ABC16" WVAW-LP. Click "Classified Ads" on the left navigation panel for the complete details.

If your station/organization has any positions available (media orientated), get them on VARTV! You would be surprised who reading..... (11/19/04)

:// F-bomb dropped on CBS6

UPDATED: Well, we sat on this for several days. And the emails just kept coming. On CBS6's (WTVR/Richmond) 11PM newscast this past Friday, reporter Tim Trudell was doing a piece that was to look LIVE. But what got on the air was one of the outtakes where Trudell says, "I can't f***ing talk right." The Director immediately went back to the anchors -- Rob Cardwell is seen out of his chair with his hands up in the air and Stephanie Rochon, hand over mouth, in disbelief... priceless. Here's the video. Enjoy! (11/19/04)

:// BREAKING NEWS; Radio One Richmond does major station shuffling

It happened at midnight. First, the Gospel format, that was heard on 99.3 (WPZZ/Petersburg) shifted to the strongest Radio One signal -- 104.7 and now is known as "Praise 104.7." The format that was on 104.7, Urban AC, (WKJS/Crewe) gets knocked down to 105.7 and is now is known as "105.7 Kiss FM." Urban Oldies "Magic 105.7" WJMO Richmond has disappeared. 99.3 is now simulcasting 105.7. Urban "Power 92-1" WCDX was not involved..... (11/18/04)

A brand new classified ad has been posted on VARTV. VerStandig Broadcasting's five station cluster in the Shenandoah Valley is looking for an afternoon Anchor/Reporter. Click "Classified Ads" on the left navigation panel for the complete details.

If your station/organization has any positions available (media orientated), get them on VARTV! You would be surprised who reading..... (11/18/04)

Our thoughts and prayers go out to legendary Hampton Roads jock Mike Arlo who recently lost his mom..... (11/18/04)

A brand new classified ad has been posted on VARTV. Piedmont Communications is looking for an afternoon On-Air Personality at its Country formatted WJMA/103.1. Click "Classified Ads" on the left navigation panel for the complete details. If your station/organization has any positions available (media orientated), get them on VARTV! You would be surprised who reading..... (11/17/04)

:// Fredericksburg hometown holiday headquarters

Telemedia Broadcasting, Inc. announces that Fredericksburg's Hometown Radio Station (WGRQ-FM) will soon become Fredericksburg's Hometown Holiday Headquarters.

Virginia's Rockin' Oldies 95.9 will officially begin playing continuous holiday favorites at 12:01 AM on Friday, November 26 until Christmas Day. Any time of the day or night just tune to 95.9 to hear music that will put you in the sprit of the season or, check out more holiday music on-line at www.Oldies959.com.

"The holiday season is all about tradition and we're happy to continue another one here in our area with continuous holiday favorites all season long," states GM, Tom Cooper. "While we set the stage for the holidays with seasonal music, we will continue to provide local hometown sports coverage like the High School Football playoffs as well as Virginia Tech Hokie football."

Local schools and places of worship will also be recognized as the Hometown Holiday Spotlight shines on each with on-air broadcasts of music from these holiday performances. Hometown Holiday Happenings will also be promoted through a complete listing on the web (at www.Oldies959.com) of area holiday events and performances.

Other programming changes will occur as a result of the holiday programming including the hiatus of "Coast To Coast Beach Favorites" until Sunday, December 26th. Telemedia also owns and operates "Thunder 104.5, Country That Rocks!" WGRX-FM..... (11/17/04)

:// Oops

Belo Broadcasting's WVEC (13/ABC) Hampton/Norfolk wrecked their satellite truck late Friday night during rain. We hear it was on one of the narrow roads in the Pungo section of Virginia Beach. It's been out of commission since.



:// Star 94.1 gives back to the community

On Thursday, November 18, Hampton Roads' Contemporary Inspirational "Star 94.1" WXEZ Yorktown, is hosting the 3rd Annual "Harvest Feast" at First Baptist Church Denbigh at 11AM located at 3628 Campbell Rd in Newport News.

Star 94.1 Midday personality Mark Rawlison will emcee the festivities filled with food, games, and prizes. Entertainment will be provided by the First Baptist Church Denbigh Sunday School members and local gospel artist Melvina Harrison. The event is projected to feed over four hundred misfortunate families in the area..... (11/17/04)

:// Blankenship, Lupton sign on with Scott Media Group

Scott Media Group, parent organization for the Jerry Lee Scott Band, announced today that Johnny Blankenship and Rachel Lupton have joined the team as Account Executives.

"We can hardly contain our excitement," says David Lyons, Scott Media's Vice President. "Rachel and Johnny are immensely talented and bring many years of music and sales experience to Scott. We're going to hit the ground running from here on out."

Expect to see a slightly new look on the Band in coming weeks, and already there is word of further expansion or promotions within Scott Media's ranks.

Some longtime fans have not immediately recognized Jerry Lee in recent months, as he has lost considerable weight: 277 pounds. October also marked another milestone, as Jerry Lee and his wife Melanie helped celebrate their daughter Gracelyn's first birthday.

Lyons also announces that the latest website, for C.W. Cowlings Restaurant & Lounge, (in Smithfield VA) will be completed before November 30. Expect to see one more website launched by the end of 2004..... (11/17/04)

:// School paper chimes in

The University of Virginia's newspaper "The Cavalier Daily" says that Gray Television's "CBS19" WCAV Charlottesville "soft-launched" their 6 and 11PM newscasts recently. The Paper says the new station hopes to work out technical kinks before officially premiering its area news program. Hmmm. Monika Galvydis of the Daily has the school's perspective on the Charlottesville-area television stations..... (11/17/04)

:// Young Broadcasting co-founder dies

Adam Young, co-founder of Young Broadcasting, died Monday of a stroke in Palm Beach FL. A New York native, Young was 91. Young Broadcasting has a TV outlet in Richmond -- WRIC (8/ABC). Here's the rest on Young's passing..... (11/17/04)

:// More on the WCMS sale

We've been waiting for the sale information to appear on the FCC's website. It's now there. Davidson Media has agreed to buy Barnstable's "FOX Sports Radio 1050" WCMS Norfolk for $975,000. The station is 5kW during the day and 358 watts at night. And a suspicion of ours proves to be true. The "WCMS" call letters were NOT part of the sale. Barnstable just doesn't want to part with them. Question is "What do they do with them?" Will those call letters stay in Hampton Roads or go to another Barnstable property elsewhere? (11/16/04)

:// NBC debuts digital weather channel in New York

NBC Weather Plus, a 24-hour national-local weather channel, signed-on on the Time Warner Cable system in New York and over the air on NBC O&O WNBC-DT (4-2) yesterday. Developed as a 50-50 joint venture of NBC Universal and NBC affiliates, the digital channel is scheduled to launch via broadcast and cable in 15 markets within the next 90 days including Washington NBC O&O WRC/4. The rest of NBC's affiliates will be able to sign on in 2005..... (11/16/04)

:// Cox screwed up and wants its money

Cable television customer(s) in Hampton will pay about an extra $14 in the next two years to help Cox Communications recoup the cost of a tax-collection error.

Some Hampton council members are upset that Cox is applying the fee to all its customers in the city, including those who weren't subscribers when Cox failed to properly collect the tax on behalf of the city. Terry Scanlon of the Daily Press has the complete story..... (11/15/04)

Several brand new classified ads have come into VARTV including The Free Lance-Star radio cluster in Fredericksburg (WFLS, WYSK, WWUZ) looking for a part-time News Reporter and Clear Channel Norfolk is wanting a Market Controller/Business Manager.

Click "Classified Ads" on the left navigation panel for the complete details. If your station/organization has any positions available (media orientated), get them on VARTV! You would be surprised who reading..... (11/15/04)

:// Election night television coverage close too

In Hampton Roads, the most viewers tuned in to WAVY (10/NBC) from 8-11PM on Election Night (November 2) to follow the Presidential race. Channel 10 garnered a 10.6 for that three hour period. Second, was WVEC (13/ABC) with a 9.7 and third was "Your NewsChannel 3" WTKR (CBS) with a 6.5. NBC's coverage was headed up by Tom Brokaw, ABC had Peter Jennings and CBS, of course, Dan Rather with all the local affiliates getting five minutes at the top and bottom of each hour for local election race coverage...

Speaking of local news, several VARTV readers and including myself noticed that it appeared WAVY evening anchor Alveta Ewell had a bad case of conjunctivitis (pink eye). It first appeared in her right eye then two days later was in BOTH eyes. Imagine how that looked on my 61" TV set... Augh... As two readers put it -- "disgusting." I agreed..... (11/14/04)

Richmond area viewers still upset over WRIC's (8/ABC) pulling of "Saving Private Ryan." The RTD has more this morning at timesdispatch.com..... (11/13/04)

:// More news department shake-ups coming

That's what we're hearing in Fredericksburg. Reported here the other day Veronica Robinson, the ND (News Director) at Mid Atlantic Network's Hot AC "B101.5" WBQB and "NewsTalk 1230" WFVA Fredericksburg, had exited the cluster and jumped ship to Bonneville's News WTOP. Last month, Bob Jones' last day at cross-town rival Free Lance-Star WFLS/WFVA was October 22. He's now the ND at Positive Alternative Radio's CCM (Christian Contemporary Music) WPER/89.9, Culpeper. Now comes more news soon that another will be exiting "Dead Fred." (11/13/04)

:// State-wide, er, Commonwealth LPFM news

The Virginia Center for Public Press' Indie "Richmond Indie Radio" WRIR-LP/97.3 goes before the Richmond City Planning Commission on Monday, November 15. The Commission will review WRIR's proposal to operate from a studio at 1621 West Broad Street. In an email sent out to listeners/supporters, James Hickman, VP for The Virginia Center for Public Press, says "Their consideration is one of the final steps to getting the station on-air. If they approve the permit, then our final hurdle – approval by City Council on November 22nd - is almost guaranteed." He added, "If you have time to attend the Planning Commission meeting, please come and show your support." More details can be found on their website at wrir.org. The station's target on-air date is still January 1, 2005...

The Popular Assembly Of New Horizons 3000 And His Successors' LPFM WYOU-LP/100.9 Williamsburg is now on the air 24/7. According to the station's website at wyou.fm, "WYOU programming consists of a Triple-A format for the morning and afternoon drive times... (which) includes New(s), Weather and Sports." "Revolutionary Radio's" local programming is weekdays from noon to 3:00PM, Saturdays 10AM to noon and Sundays 7:30AM to 3PM. The station is operating at an equivalent of 100 watts...

Antioch Baptist Church's WSUV-LP/102.5 Susan was recently licensed by the FCC. Susan is located in Matthews County on the Middle Peninsula...

An application for a LPFM at 103.7 in "North Virginia Beach" has been dismissed by the FCC. An "Informal Objection" was filed with the FCC then a week later the Commission dismissed the application. They stated it should have never been "accepted for filing." (11/13/04)

:// The New Guy to exit Z

Justin Wright, maybe better known as "The New Guy," is leaving the night slot on Entercom's Rhythmic "Z104" WNVZ/104.5 Norfolk. Wright has been heard on Z104 for only nine months; the first three of those months he was voicetracking from Mel Wheeler CHR "K92" WXLK/92.3 Roanoke. He also serves as the cluster's Imaging Director. Z104's night shift came open when Mike Klein moved to afternoons. Just when you thought the revolving jock door at WNVZ was shut... We hear Wright will exit The Z on Friday, December 17 to go back to Roanoke. Will K92 welcome him back? We're hearing they love him..... (11/13/04)

Clear Channel's "SportsRadio 910" WRNL Richmond has decided not to move Mike Maniscalco's afternoon show to the AM. Jerry Lindquist of The Richmond Times-Dispatch tells why..... (11/12/04)

:// WCMS sold; new ethnic format a good bet

Barnstable Broadcasting has sold "FOX Sports Radio 1050" WCMS Norfolk to Davidson Media Group headed up by Peter Davidson. Davidson Media, according to their website, "...operates two types of radio stations. The first are traditionally programmed stations. These broadcast music, local and international news. DMG's programmed stations are generally focused on the Hispanic market and these stations are mostly in Spanish. The second (and the majority) of DMG operations are block programmed radio stations... with local entrepreneurs to turn our station into the true voice of the local immigrant and/or non-English speaker." Speculation is that Hampton Roads could get their first full-time (24/7) ethnic radio station mostly likely Hispanic. Good-bye FOX Sports Radio... for now.

Started in 1954, WCMS played country music right up to 2001 when several formats came and went on the station -- simulcast of Contemporary Inspirational "Star 94.1" WXEZ, Standards "AM 1050 The Fog" WFOG (MOYL), "Classic Country 1050" and now full-time sports as of May.

In the beginning of this year, Barnstable sold it's entire 4-station Memphis cluster for $100M to Citadel Communications. Barnstable, based in Boston suburb Newton MA, is now down to 14 stations -- 5 in Hampton Roads, 3 in Greenville SC and 6 on Long Island NY. No word on price..... (11/11/04)

We heard that Veronica Robinson, the News Director at Mid Atlantic Network's Hot AC "B101.5" WBQB and "NewsTalk 1230" WFVA Fredericksburg, has exited the cluster and jumped ship to Bonneville's News WTOP. She keeps getting further north on I-95. Before coming to Fredericksburg, she was with WRVA/1140 Richmond and VNN (Virginia News Network)..... (11/11/04)

:// There's no Saving Private Ryan

Belo's WVEC/13 Hampton/Norfolk and Young's WRIC/8 Petersburg/Richmond (a corporate decision) are not running ABC's uncut version of "Saving Private Ryan" tonight. ABC affiliates across the country fearing of earning a FCC indecency fine are choosing to preempt the movie with alternate programming. Under ABC's deal with director Steven Spielberg, the film can't be edited. Also, the network is denying affiliate requests to air the movie at a later start time. The WVEC statement, WRIC's statement.

Allbritton's "ABC7" WJLA Washington and sister "ABC13" WSET Lynchburg/Roanoke plan on airing the flick. No word yet from Gray's WHSV/3 Harrisonburg and sister "ABC13" WVAW-LP Charlottesville..... (11/11/04)

:// Our first all-holiday station

Clear Channel dumped the Soft Rock format on "Lite FM" WCDG 92.1/WJCD 107.7 Moyock/Windsor for all-holiday music. Promos on the station are warning us that the "regular" format will return on December 26. Over at Barnstable's 70s-60s Oldies "92.9 WFOG" Suffolk/Norfolk, they're threatening us via their website that they will go all holiday music on Thanksgiving Day...

And what will Entercom's AC "2WD" WWDE/101.3 Hampton/Norfolk do? Go all-holiday or gradually build up the holiday tunes as Christmas draws nearer? (11/9/04)

:// WROV lives on in memories

You can demolish a building. But you can never tear down the bedrock of memories.

In its day, creative juices flowed from WROV, the AM radio station that rocked Roanoke from the late 1950s to the '80s.

The early years of ROV featured Jerry Joynes, who played "pop" records of Frank Sinatra, Perry Como and Peggy Lee. Radio personalities routinely claimed 55 percent of the Roanoke listening audience. Lois Caliri of The Roanoke Times has the whole story..... (11/9/04)

:// BCS games on WXGI

Richmond's worldwide leader in sports, "ESPN Radio 950" WXGI will be carrying this season's Bowl Championship Series college football games. The ESPN Radio Network will provide all BCS broadcasts. The BCS schedule is as follows:

Rose Bowl - January 1st @ 4:30PM
Fiesta Bowl - January 1st @ 8:00PM
Sugar Bowl - January 3rd @ 8:00PM
Orange Bowl - January 4th @ 7:45PM

ESPN Radio 950 is currently carrying select NBA and NFL games throughout the regular season. Other college programming throughout the fall and winter on ESPN Radio 950 will include the entire Virginia Tech Men's Basketball schedule, plus select Virginia Union University Men's Basketball & University of Richmond Women's Basketball broadcasts..... (11/9/04)

:// Your NewsChannel 3 gives NC more time

New York Times owned WTKR (3/CBS) Norfolk gives NE North Carolina more time on the air for news events. Last week, for example, the 911 emergency service phone number was out in NE NC for almost four hours. WVEC (13/ABC) and WAVY (10/NBC) devoted less than 15 seconds to the story during its newscasts. On the other hand, WTKR did a full story; including several live shots at noon and during the evening newscasts from Perquimans County.

"Your NewsChannel 3" has also partnered with several NE NC radio stations -- Gospel "Rejoice 100.9" WFMI Southern Shores and Convergent Broadcasting's Soft AC "The Wind 97.1" WYND Hatteras and "Classic Hits 104-9" WFMZ Hertford, for weather updates throughout the day. For WYND, their coverage area is VERY far south of Hampton Roads; actually closer to the Greenville/Washington/New Bern TV market.

We're hearing WTKR is trying to get back on the Outer Banks, making more of a presence there as they had years ago, with Ed Hughes, Andy Roberts going down there all the time. Also, Bob West would do a feature on his "Points West" at least 2 to 3 times a month about things going on the Outer Banks and in Northeastern Carolina instead of just coming here for the hurricanes, death and destruction..... (11/9/04)

:// More concert dates, big plans for 2005 at Scott Media

"2005 is going to be a breakout year for us." This from Scott Media Group's Vice President, Dave Lyons. "More concert dates are just the beginning!"

Already observed on the Jerry Lee Scott Band's (jerryleescottband.com) website are an increasing number of dates stretching from Newport News to Virginia Beach. "With Jerry Lee back in full swing less than 6 weeks after surgery, we're not wasting any time," David said.

The position for Account Executive hasn't been filled yet, but the Group is talking to two individuals who are very well known in Hampton Roads to handle public relations and concerts. "They are extremely knowledg(e)able and talented, and will have enormous potential and capability to offer SMG."

Scott Media's latest website is set to launch this month, and at least two more are in early development stages, Lyons reports..... (11/9/04)

Gray Television's "CBS19 News at 6" WCAV Charlottesville had it's inaugural broadcast yesterday. Both the 6PM and 11PM newscasts went on without a hitch..... (11/9/04)

:// Cox Hampton Roads to raise rates

Cox Communications, Hampton Roads' largest cable television provider, plans to raise the price of its most popular service by 3.5% - marking at least six years in a row that rates have increased.

The standard package of 68 channels will cost $41.29 a month, up from $39.90. Customers will see the increase on their next bills starting Nov. 15. The complete story in today's The Virginian-Pilot ..... (11/6/04)

:// O'Donnell shuffled out at Fox despite success

All but overlooked, unless you're into the news at 10 instead of 11, was Megan O'Donnell's sudden, unannounced departure from "FOX Richmond" WRLH (35). She was replaced by Jory Rand.

This went down a month or so ago and left some bitterness on the part of some people who knew, liked and admired O'Donnell. She was thought to be the state's first woman sportscaster on TV. The complete story by Jerry Lindquist of the Richmond Times-Dispatch..... (11/4/04)

:// Here we grow again

Cheesy, right? Well, VARTV had the most visitors ever in a month in October. Thank you again to all the readers of VARTV and tell a friend! (11/3/04)

:// Bush wins!

You heard it here first. Doing what Tom, Dan, Peter, Wolf, Chris, Brit and all the networks just can't do, we project that President George W Bush has defeated Senator John F Kerry in the 2004 Presidential election. VARTV will either be the first in the world or have egg, no, I mean omelets all over ourselves..... (11/3/04)

:// 3 gets third radar running

We reported back in the middle of September about "The Triple Doppler dupe?" on "Your NewsChannel 3" WTKR Norfolk. The station had been promoting its three Dopplers that "protect" us in Hampton Roads, touting a new Doppler on the Peninsula -- "2 million watts covering over 600,000 square miles."

Well, Channel 3 wasn't telling the truth. No part of the roof-top radar was in place when the station was running the promos. That Peninsula radar has now gone "LIVE." The Peninsula radar is in addition to the Southside and Buxton NC LIVE radars that WTKR run. For now, you can only see the Peninsula radar on WTKR-DT/3-2. A link to the radar on WTKR.com is not yet available..... (11/1/04)

:// Daisy Davis starts biz

Talented radio professional Daisy Davis has launched her consultancy business Daze Communications, Inc. Davis possesses a lengthy background in radio programming and management, with experience at WBMX, WVAZ (Chicago), WDAS (Philadelphia) and the Clear Channel Norfolk Cluster.

According to Davis, "God has blessed me to have an extensive, successful and award-winning career in radio and now I'm ready to assist others with professional dependable one-on-one service. I'm very excited about a brand new and fantastic period in my continuous journey in this business that I absolutely adore."

DCI is a Chesapeake VA based radio consulting firm that will specialize in programming, promotion and marketing for radio stations. Davis can be reached at 757-548-6282 or dazedavis@aol.com..... (11/1/04)

News Archives.....